DUB SPENCER & TRANCE HILL @ kraftfeld winterthur w/ dj hermes conrad & new.com

on friday november 13th, 2015 from 9pm @ kraftfeld, winterthur

in concert:
- DUB SPENCER & TRANCE HILL (ch)

djs:
- dj hermes conrad (rocksteady bang-a-rang; w'thur)
- new.com (comfortnoise, dubexmachina, bold; zh)



"der landbote", november 13th, 2015



Dub Spencer and Trance Hill – man darf das mittlerweile so sagen – sind eine Grösse im internationalen Dub-Kosmos: Sie releasen auf dem Hamburger Label Echo Records, wo schon so illustre Namen wie Jan Delay, Sam Ragga Band oder King Tubby ihr Material veröffentlicht haben und haben ihren Tourradius bereits bis nach Finnland oder Dubai ausgeweitet. 2014 erschien ihr bislang letztes von insgesamt sieben Alben, live sind sie eine Wucht: Wummernde Bässe gepaart mit Off-Beat-Gitarren sowie unendlich scheinende Space-Delays, -Echos und Hallfahnen – die Essenz guten Dubs halt.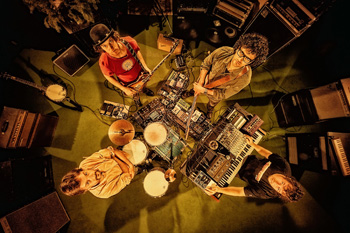 Dass sie sich in der Popkultur auskennen und durchaus Humor haben, beweisen – neben ihrem eigenen und ihres Produzenten (Umberto Echo) Namen – ihre Konzeptalben: Das aktuelle ist eine Hommage an den Beat-Poeten William S. Burroughs, ihr 2011er Cover-Album «Riding Strange Horses» strahlt mit Neu-Interpretationen von Metallicas «Enter Sandman» und Robin Scotts «Pop Muzik» nur so vor Augenzwinkern, genauso wie ihr The-Clash-Cover-Album «The Clashification of Dub» von 2012.

Einer kopfnickenden und basslastig-ausufernden Tanznacht steht also rein gar nichts im Wege, insbesondere auch deshalb, weil vor und nach der Show die Dub-Spezialisten new.com aus Züri und unser Resident Hermes Conrad die Bauten auf dem Lagerplatz möglicherweise zum Einstürzen bringen. Das solltest du auf keinen Fall verpassen.